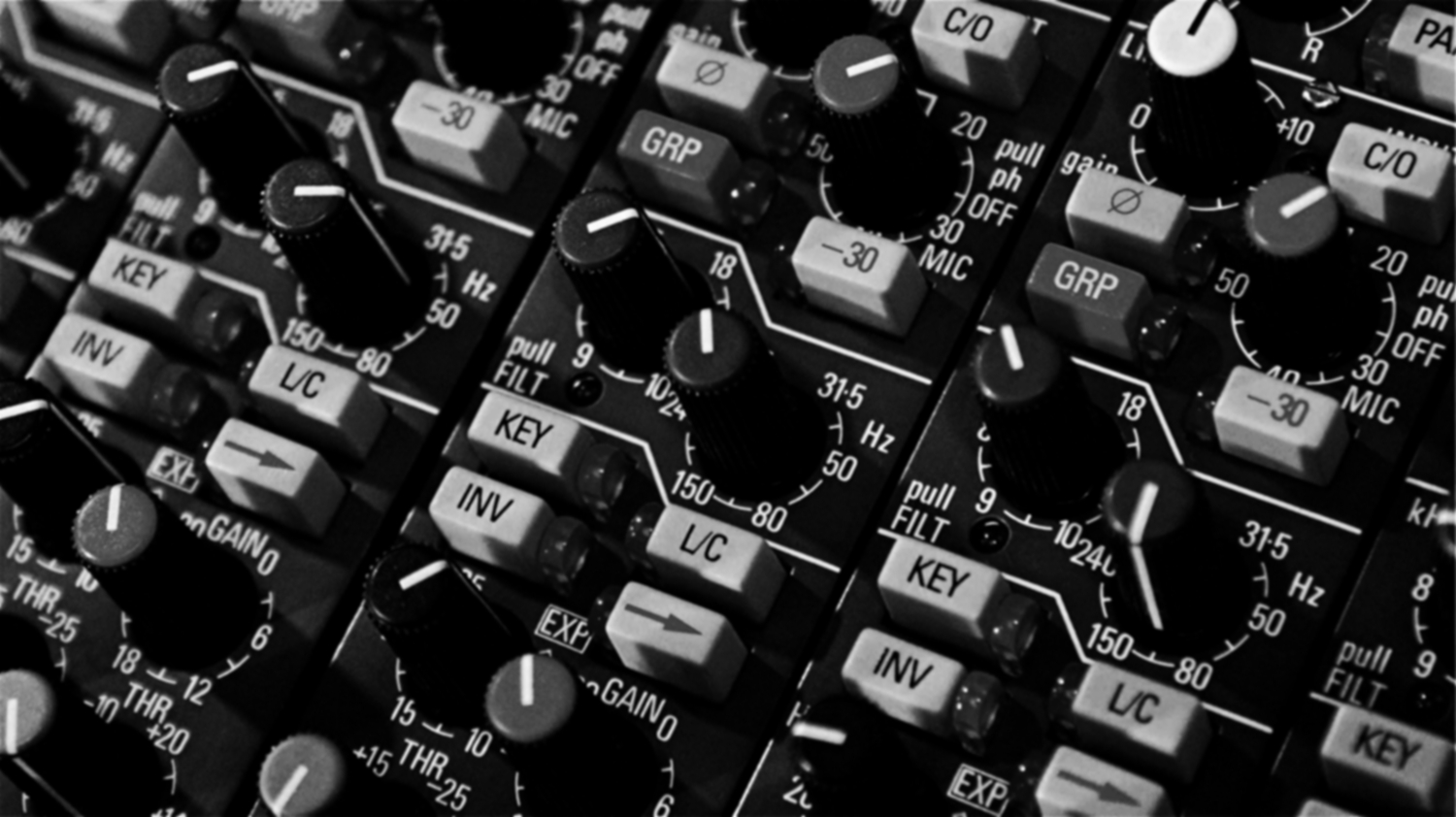 Welcome to
Afterhours Music Recording Studios
Family Owned & Operated For 34 Years
At Afterhours Music Recording Studios, we pride ourselves in the design and construction of our facility. Designed in 1988 by Scott Phillips, the former Head of Quality Control/Quality Assurance for MCI-Sony Professional Products Division in the U.S. and Chief Engineer for Criteria Recording Studios (The Hit Factory Criteria), our facility features double wall construction, floating floors, and customized acoustical treatments.
From the beginning, this studio was designed and built for the musicians and artists. As a result, we accurately capture and accommodate all styles of music. Want to know more? Well, keep scrolling down!
Services
Looking for a service that is not listed below? In addition to those below, we offer a variety of additional services such as mastering and post-production (Voice Over, ADR, etc.), so contact us to find out more.
Recording
Track your project at our state-of-the-art facility using our Neve console (previously owned by the Bee Gees at Middle Ear Studios) and assortment of microphones. We offer recording in both analog* and digital format.
*We have 2" and 1/2" tape available for renting. Contact us for more information.*
Mixing
Have your project mixed or personally mix your project at our facility on our console while using our collection of outboard gear.
Restoration & Transfer
Here at Afterhours we have restored and transferred several hundred reel to reel tapes in a variety of formats. We possess the ability to restore all formats and can personally transfer tapes (even those with NR) for which we have machines.
We also offer vinyl cleaning and transferring!
Music production
Production services, as well as programming and studio musicians, are available upon request.
The Studio
Afterhours Music, founded by Hal Batt in 1984, started its beginnings in the rear of his home in Lauderdale Lakes, Florida with an MCI 536C and a JH24 2" tape machine (the same one we own today). As far as we know, this was one of the first, if not the first, professional home recording studio (a fad which is quite common today) in South Florida. Afterhours Music started recording artists such as Jazz legends Lionel Hampton, Boots Randolph, and Sylvia Bennett. In 1988, as the studio was growing at a rapid rate, Afterhours Music relocated to its current location at 1959 NE 149th St in North Miami, Florida (one block east of the world famous Criteria Recording Studios now The Hit Factory Criteria). As our clientele grew, so did our gear and in 1995 we upgraded our console from an MCI JH-536C to a Neve V and also acquired a Mitsubishi X-850. However, the 36 channels the Neve provided was not enough, so in 1999 we bought the Bee Gees' Middle Ear Studio's Neve V, which had 60 channels and Flying Fader automation. Since then, Afterhours has been one of the only recording studios in the Miami and South Florida areas to feature a Neve Desk with Flying Fader automation.
A number of artists and producers, both big and small, have recorded at Afterhours including Julio Iglesias, Lionel Hampton, Shakira (English version of "Estoy Aqui" written by Hal S. Batt and mixed at Afterhours), Placido Domingo, Gerald Alston (The Manhattans), Jean Carne, Sylvia Bennett, Lulu, Vanilla Ice, Regina Belle, Eugene Wilde, Chayanne, Juanes, Noelia, K.C. Porter, Ricky Martin, Paulina Rubio, Donato & Estefano, Bebu Silvetti, Jane Eugene (Loose Ends), Nick Martinelli, Mike Lewis, Bobby Blue Bland, Shirley Murdock, Sandi Patty, Miguel Angel Guerra, and countless local artists.
Equipment
Console:
60 Input Neve V - Flying Fader Automation
Monitors:
Genelec 1031a Pair

Yamaha NS-10M Pair

Westlake Audio BB12 Pair
Digital Recording System:
Avid Pro Tools HD 12.8 - 64 In, 64 Out

(1) Apogee Symphony MKII 32x32

(2) Digidesign 192 I/O

Mixdown Rig

(1) Apogee Symphony MKII 2x6SE

(1) Apogee PSX-100*

Steinberg WaveLab Pro 9.5

*Available upon request:
Tape Machines:
MCI JH24 2" 24 Track

Mitsubishi X-850 1" 32 Track

Ampex ATR-102 1/2" 2 Track

Mitsubishi X-86 1/4" 2 Track

Otari MX-5050 1/4" 2 & 4 Track

Sony TC-788 1/4" 4 Track
External Pre's & Equalizers:
(2) API 512B Mic Pre

(2) API 512C Mic Pre

(4) API 550B EQ

(1) Daking Mic Pre 500

(1) GML 8200 Dual Mono EQ

(1) LaChapell Audio 583S Tube Mic Pre
Instruments:
1979 Rhodes Mark I Suitcase 73

Takamine F360S Acoustic Guitar

Takamine HP7 Nylon Guitar

Vintage Fender Stratocaster Modified

Fender Telecaster

Fender Jazz Bass

Fender Jazzmaster '65 Reissue*

Yamaha C3 Grand Piano

Gibson Custom 1963 ES-335 Reissue*

Gretsch 5422TDC Modified*

Taylor 355 Jumbo 12-String

Taylor 816ce Acoustic Guitar*

Taylor Big Baby 307-GB*

Schecter Tempest Custom*
*Available upon request and are subject to availability
Dynamics:
(1) dbx 160X /(2) 160XT

(4) dbx 902 De-esser

(1) Drawmer DS201 Dual Noise Gate

(1) Focusrite Stereo Limiter Red 3

(1) Summit DCL-200 Dual Compressor Limiter

(2) Urei 1176LN Limiting Amp

(4) Valley People Dyna-mite
FX Processors:
(1) AMS DMX15-80s Stereo Digital Delay

(1) AMS RMX-16 Digital Reverb

(1) Aphex Aural Exciter Type III

(1) Lexicon 224XL

(1) Lexicon 480L V4.1

Classic Cartridge Available

(1) Lexicon 300L

(1) Lexicon Prime Time II

(2) Lexicon PCM42

(2) Lexicon PCM70

(2) Lexicon PCM60

(1) TC Electronic 1210

(1) Yamaha Rev5

(1) Yamaha SPX90
Microphones:
(1) Neumann U87

(2) Neumann TLM 170

(2) AKG 414 B-TL II

(2) Crown PZM-30RB

(1) Audio Technica AT4081

(4) Neumann KM84

(2) Sennheiser MD 421

(4) Share SM57

(1) Shure Sm58

(1) Shure Beta 52A

(2) Coles 4038 (Matched Pair)
Misc:
(1) APT Holman Preamplifier

(2) BSS AR-133 DI Box

(1) Egnater IE4

(3) Custom Jensen DI Box

(1) MOTU MTP-AV

(1) TC Electronic Finalizer Plus

(1) Whirlwind HOTBOX DI
Keyboards & Samplers:
(1) Akai S1100 Sampler 18 MB RAM

(1) Akai S1100 Expander 10 MB RAM

(1) Roland JV-2080

(1) Tone Chameleon ATC-1

(1) Yamaha KX88

(1) Yamaha DX7

(1) Kurzweil 1000

(1) Yamaha TX816 (4 TF1 Modules)

(1) Oberheim OB-8

(1) Alesis HR-16 Drum Machine

(1) Roland JD-800
Hal Batt
Owner, Producer, Musician, & Engineer
Hal S. Batt was born and raised in Miami, Florida where he attended the University of Miami School of Music and Miami Dade Community College of Music. Batt began his composing and producing career in 1983, working with legendary artists such as Lionel Hampton, Boots Randolph, Regina Belle, Gerald Alston (The Manhattans) & Jean Carne.
He entered into the latin market soon after that, co-writing and arranging the single for Julio Iglesias entitled "Agua Dulce, Agua Sala" which sold just under 4 million copies and reached the #1 position as a pop single in Billboards Hot Latin tracks. It was nominated for a Grammy for Best Latin Pop Album. This song was included in Julio's greatest hits album released in 1998, an album that quickly reached platinum status.
Following this very successful release, Batt was signed to a worldwide publishing contract for the next 7 years with Peermusic. Batt also received"El Premio ASCAP Award" for the most played latin songs in America. In 1995 and 1996 he was honored for the songs, "Agua Dulce, Agua Sala" (Julio Iglesias), "Solamente Tu Amor" (Chayanne) and "Ni Una Lagrimas" (Noelia) which was honored with BMI award for the most played latin songs in America in 2002.
Jacob Batt
Engineer, Studio Manager, & Technical Director
Jacob's road to engineering started at a young age with his introduction to the recording studio by his father, Hal Batt. Throughout his childhood, Jacob frequently assisted (punching in, patching in, etc.) in sessions that came through Afterhours, but as he became older, Jacob became fascinated with both the recording process and equipment and began his learning of audio engineering under the mentorship of his father. Soon into his mentorship, Jacob was integral in the restoration and transfer of over 300 reel-to-reel tapes and vinyl for Lil' Joe Records (2 Live Crew, Poison Clan, etc.). Now, Jacob is a frequent figure at Afterhours as he is often engineering and assisting with sessions that come through its doors.
In addition to his engineering ability, Jacob also contributes his knowledge of electronics through the maintenance and repair of equipment. Jacob can often be found at Afterhours engineering, assisting, or maintaining/repairing equipment as to ensure that any project that comes through Afterhours sounds great on its way out.
Jordan Batt
Assistant Audio Engineer
Like Jacob, Jordan's taste of engineering began with the basics. Very quickly, however, he became enamored with the process. Under the guidance of his father, Jordan honed his abilities and has become a frequent figure at Afterhours. If he is not working on his own material, Jordan is often seen around the studio assisting with tracking and mixing and a host of other duties.
"Unlike other studios, Afterhours Music has fine tuned itself over the years. After 34 years and over 200,000 hours of recording time under its belt, Afterhours knows what it takes to deliver a great sound. This place is my second home."
"I have recorded at many studios over the years and Afterhours is consistently among the very best for quality and professionalism. I will continue to use them for as long as I record."
"I was introduced to Afterhours over 20 years ago, and I immediately fell in love with the sound and the atmosphere and ultimately grew close to the owner, Hal Batt. I have yet to meet a producer, songwriter, and studio owner so passionate about the way the studio sounds. This place is, without a doubt, one of the best studios I've ever been to."
Digital Recording Workshop (DRW)
The Digital Recording Workshop is a course offered at Afterhours Music, Inc. since 1984 providing a hands on learning experience in the audio engineering field. Students will learn and practice in a real world recording environment with the supplementing the studying of sound, music and recording theory, under the mentorship of owner and operator, Hal S. Batt.
Ivan Alvarez
Music Consultant
The Digital Recording Workshop strives to guide students from analog technology into the ever developing and changing digital world. Having acquired a basic foundation of music and recording theory with the opportunity to join together theory and technology in a real world state-of-the-art recording studio. The Digital Recording Workshop operates under Eugene B. Richardson B.A. M.Div, EdM, M.S., who is our educational advisor.
Curious about taking the course? Have any questions?
Contact Us
Afterhours Music Recording Studios is conveniently accessible from both Miami International and Fort Lauderdale-Hollywood International Airport.
Have any questions? Feel free to contact us via phone (if there is no answer, please leave a message and we'll contact you as soon as we can) or the contact form below if you wish to learn more about our facility and DRW program, schedule a tour, or book a session. We look forward to hearing from you!
Our Location
1959 N.E. 149th St
North Miami, FL, 33181
Tel: 305-947-6841
Fax: 305-944-3580